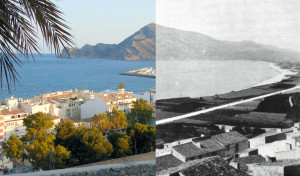 TOTEM MIRADOR DE LA MURALLA  
BIC
You have just entered Altea's old Renaissance quarters.
Altea's Bastion and Renaissance Area was declared a Cultural Heritage Site (BIC) in 2013. The Bastion conserves its original 1617 structure, with gates giving access to the fortress. The Virgen del Consuelo Church, built between the late 19th and early 20th centuries over the remains of the primitive17th century church, provides character to the ensemble as a whole.
Magnificent buildings from the foundation period, built of the 18th and 19th centuries, have also been conserved.
The Wall Viewpoint: situated at the north-West of the bastion, with access from the south part of the church square, where numerous tombs, presumably Islamic, were discovered when it was being built.
From this viewpoint, views of Serra Gelada, Puig Campana and Aitana mountain ranges and   Altea Bay and Port may be enjoyed.
Calle Rector Cremades (Church Square intersection): The Portal del Castell or Polop Gate at the corner of the south-east bastion opens out to the west.