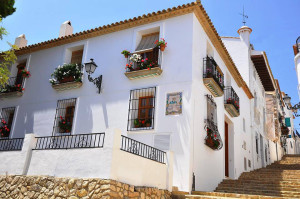 TOTEM CASA CERVANTES  
BIC
You have just entered Altea's old Renaissance quarters.
Altea's Bastion and Renaissance Area was declared a Cultural Heritage Site (BIC) in 2013.The Bastion conserves its original 1617 structure, with gates giving access to the fortress. The Virgen del Consuelo Church, built between the late 19th and early 20th centuries over the remains of the primitive17th century church, provides character to the ensemble as a whole.
Magnificent buildings from the foundation period, built of the 18th and 19th centuries, have also been conserved.
Calle Santa Bárbara: the former Calle de la Carnisseria, stands out within the ensemble as a whole. A unique façade can be viewed at the Casa Cervantes house. The house was built by D. Francisco Martínez i Martínez, member of the early 20th century Valencian Renaissance literary movement and eminent scholar of works by Miguel de Cervantes.
Casa Cervantes Façade: a three floored, purist eclectic house of the early 20th century, with neomudéjar elements and a symmetric whitewashed façade. The central front door is framed by pilasters, a lintel and a semicircular arch. There is a medallion on the tympanum with the figure of a proud knight, with the inscription "CERVANTES", which gives the house its name. On each side of the door, small semicircular arches frame the geminate windows that open out over a mullion. On the first floor, there are decorated lintels with lobed arches over two balconies, and over the door, there is a central framed decorative figure. The house is crowned by a gallery of small Aragonese semicircular arches and by great wooden eaves. It belonged in latter years to the Olcina family.