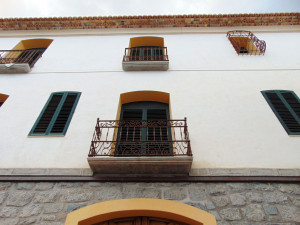 TOTEM CASA SALVA Y PICO  
CASA SALVÀ and CASA PICÓ
CASA SALVÀ
18th century
Calle Salvà 1.
One of the most interesting 18th century Altean houses, it was the first to be built outside the walled enclosure during the early1 8th century by a prominent Altean family. It stands at a key point of access to the town by the old Camino Real. Its architecture is the style of the great ancestral homes of the times, with its rooms opening out with wrought iron grilled windows onto the street. The main living quarters were on the first floor, service and the storage quarters on the floor above.   The building is today divided into various properties. Its façade gave name to the street.
CASA PICÓ
1880
Calle Salvà, 3
Located next to the Casa Salvá house at the rear end of the Bellaguarda neighbourhood, it was at a strategic position at the north access by the old Camino Real, a privileged place for mobility and access to the fields of the powerful 18th century rural middle-class gentry. The house had a modern structure for its time, of various homes together in one same family building, the ground floor was used for either business or agricultural use.
(This information is published in the Guía de Altea by J. Miguel del Rey)
We continue up Sant Blai street, up the calle del Ángel steps, and finally arrive at the Portal Vell gate.