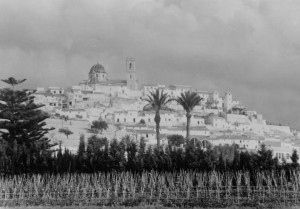 TOTEM ROUTE 4: PORTAL NOU
ROUTE START
We are now at the railway installations inaugurated in 1914 which include a station, railway lines, platforms, train sheds and stands. These installations helped to modernise the area a little, housing the town's first hotels and hostals. This character was kept until well into the 20th century.
Opposite is the L'Hort de la Campaneta, one of the few houses with walled orchards that have survived from the 19th century. Named after a little bell that hung over a gate next to the house, (now installed in the San Francisco church), Its architecture employs very fashionable local referential elements of the time, closely related in form to the parish church domes.
Leaving the railway lines on the right, we continue up the steps leading to calle Alacant street.On the left is the Municipal Professional Music Conservatory. Continuing along the calle Sol, one of the most visited streets in Altea, we come to the end of our route, the Portal Nou gate, at the Carmelina Sánchez Cutillas square.
(This information is published in the Guía de Altea by J. Miguel del Rey)